English Charts – Tense Chart, Conditional Chart, Active Passive Voice Chart, Direct Indirect Speech Chart, etc.
Limited Period Diwali OFFER: All 6 Books + 64GB Lesson-wise Videos Pendrive only @ Rs. 1500/-. You can either order through our product link: Click here or call our order helpline no. +91-8448443310. 
SIMPLE SENTENCES CHART
Simple sentences are those, in which there is no action performed by the subject.
CLICK HERE for Lesson-wise Videos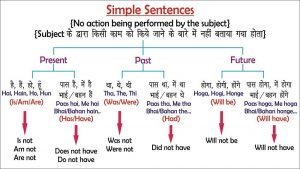 TENSE CHART
Here are the Tense charts. सभी Tense सीखो (Videos के साथ) बस एक आर्टिकल में – CLICK HERE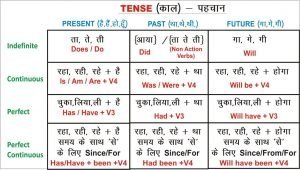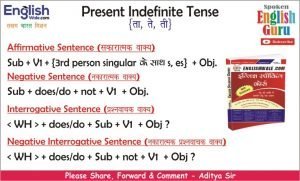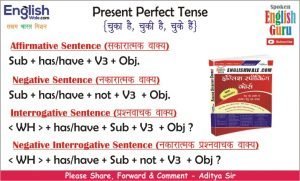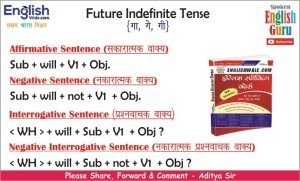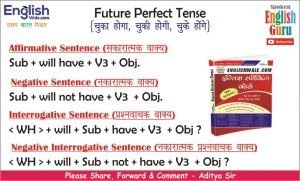 Hope you liked the Tense Chart….
1st, 2nd, 3rd Person Singular Plural Subject Chart
1st Person, 2nd Person & 3rd Person Singular Plural Subjects VIDEO: CLICK HERE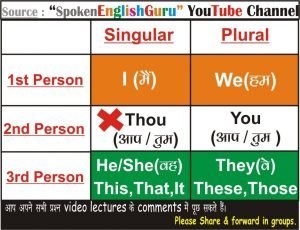 Be-Do-Have Verbs Chart
Be, Do & Have Verbs: CLICK HERE TO WATCH THE VIDEO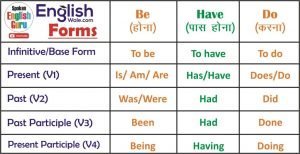 CONDITIONAL CHART
Conditional Sentences Video: CLICK HERE TO WATCH VIDEO
[(Is/Am/Are/Has/Have/Had/Having) + to] Chart
Is/Am/Are/Has/Have/Had/Having/Would have/Should have/Could have + to Video: CLICK HERE TO WATCH VIDEO
Will vs Would Chart
Will vs Would: CLICK HERE TO WATCH VIDEO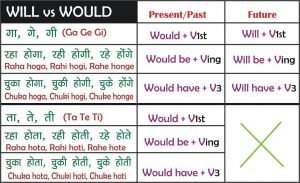 Get as a Main Verb Chart
Use of GET as a main verb: CLICK HERE TO WATCH VIDEO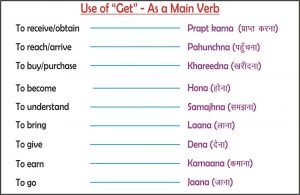 Get as a Phrasal Verb Chart
Use of GET as a phrasal verb: CLICK HERE TO WATCH VIDEO
Tense Charts are considered the most important in English…
Indefinite Pronoun Chart
All Indefinite Pronouns: CLICK HERE TO WATCH VIDEO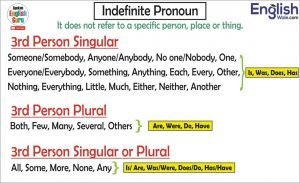 WH + EVER Chart
Use of WH family with ever: CLICK HERE TO WATCH VIDEO
WH Question (Kab kab, kahaan kahaan) Chart
WH Words: KAB-2, KAHAAN-2, KAUN-2, etc…: CLICK HERE TO WATCH VIDEO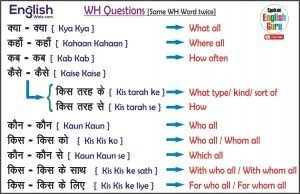 Gerund and Infinitive Chart
"Gerund Infinitives and Participles" Lesson: CLICK HERE
Direct Indirect Speech Charts
"Direct Indirect Speech (Narration)" Lesson: CLICK HERE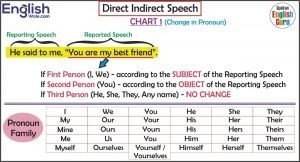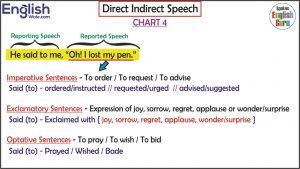 Active & Passive Voice (Tense Chart)
Passive Voice of TENSES: CLICK HERE
Active & Passive Voice (Modal Verbs Chart)
Passive Voice of Modal Verbs: CLICK HERE

British vs American English Chart
British vs American English: CLICK HERE TO WATCH VIDEO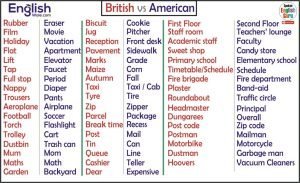 "Use of HAVING" Chart
Have Having PART 1 Video: CLICK HERE
Have Having PART 2 Video: CLICK HERE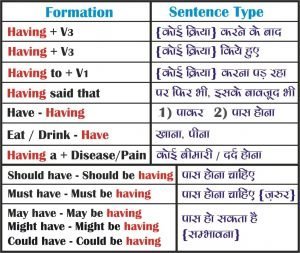 IMPORTANT LINKS
Complete English Speaking Course: CLICK HERE
Books & eBooks: CLICK HERE
Lesson-wise YouTube Videos: CLICK HERE
YouTube: CLICK HERE
Facebook: CLICK HERE
Instagram: CLICK HERE
Android App: CLICK HERE
Blogging Course: CLICK HERE
Computer Course: CLICK HERE
TRENDING BLOGS
TENSES | VERBS | CONVERSATIONS | TRANSLATIONS | PRACTICE EXERCISES | PREPOSITIONS | DAILY USE SENTENCES | VOCABULARY | PRONUNCIATION | PHRASAL VERBS | TIPS n TRICKS | INTERVIEW Q&A | PUNCTUATION MARKS | ACTIVE PASSIVE | DIRECT INDIRECT | PARTS OF SPEECH | SPEAKING PRACTICE | LISTENING PRACTICE | WRITING PRACTICE | ESSAYS | SPEECHES
अगर आपको ये आर्टिकल पसन्द आया हो, तो इसे अपने दोस्तों के साथ WhatsApp, Facebook आदि पर शेयर जरूर करिएगा। Thank you! – Aditya sir