English Charts – Tense Chart, Conditional Chart, Active Passive Voice Chart, Direct Indirect Speech Chart, etc.
SIMPLE SENTENCES CHART
Simple sentences are those, in which there is no action performed by the subject.
CLICK HERE for Lesson-wise Videos
TENSE CHART
Here are the Tense charts. सभी Tense सीखो (Videos के साथ) बस एक आर्टिकल में – CLICK HERE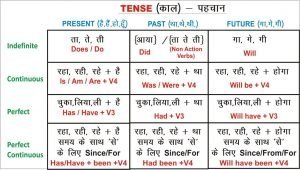 Hope you liked the Tense Chart….
1st, 2nd, 3rd Person Singular Plural Subject Chart
1st Person, 2nd Person & 3rd Person Singular Plural Subjects VIDEO: CLICK HERE
Be-Do-Have Verbs Chart
Be, Do & Have Verbs: CLICK HERE TO WATCH THE VIDEO
CONDITIONAL CHART
Conditional Sentences Video: CLICK HERE TO WATCH VIDEO
[(Is/Am/Are/Has/Have/Had/Having) + to] Chart
Is/Am/Are/Has/Have/Had/Having/Would have/Should have/Could have + to Video: CLICK HERE TO WATCH VIDEO
Will vs Would Chart
Will vs Would: CLICK HERE TO WATCH VIDEO
Get as a Main Verb Chart
Use of GET as a main verb: CLICK HERE TO WATCH VIDEO
Get as a Phrasal Verb Chart
Use of GET as a phrasal verb: CLICK HERE TO WATCH VIDEO
Tense Charts are considered the most important in English…
Indefinite Pronoun Chart
All Indefinite Pronouns: CLICK HERE TO WATCH VIDEO
WH + EVER Chart
Use of WH family with ever: CLICK HERE TO WATCH VIDEO
WH Question (Kab kab, kahaan kahaan) Chart
WH Words: KAB-2, KAHAAN-2, KAUN-2, etc…: CLICK HERE TO WATCH VIDEO
Gerund and Infinitive Chart
"Gerund Infinitives and Participles" Lesson: CLICK HERE
Direct Indirect Speech Charts
"Direct Indirect Speech (Narration)" Lesson: CLICK HERE
Active & Passive Voice (Tense Chart)
Passive Voice of TENSES: CLICK HERE
Active & Passive Voice (Modal Verbs Chart)
Passive Voice of Modal Verbs: CLICK HERE

British vs American English Chart
British vs American English: CLICK HERE TO WATCH VIDEO
"Use of HAVING" Chart
Have Having PART 1 Video: CLICK HERE
Have Having PART 2 Video: CLICK HERE
IMPORTANT LINKS
Complete English Speaking Course: CLICK HERE
Books & eBooks: CLICK HERE
Lesson-wise YouTube Videos: CLICK HERE
YouTube: CLICK HERE
Facebook: CLICK HERE
Instagram: CLICK HERE
Android App: CLICK HERE
Blogging Course: CLICK HERE
Computer Course: CLICK HERE
TRENDING BLOGS
TENSES | VERBS | CONVERSATIONS | TRANSLATIONS | PRACTICE EXERCISES | PREPOSITIONS | DAILY USE SENTENCES | VOCABULARY | PRONUNCIATION | PHRASAL VERBS | TIPS n TRICKS | INTERVIEW Q&A | PUNCTUATION MARKS | ACTIVE PASSIVE | DIRECT INDIRECT | PARTS OF SPEECH | SPEAKING PRACTICE | LISTENING PRACTICE | WRITING PRACTICE | ESSAYS | SPEECHES
अगर आपको ये आर्टिकल पसन्द आया हो, तो इसे अपने दोस्तों के साथ WhatsApp, Facebook आदि पर शेयर जरूर करिएगा। Thank you! – Aditya sir